Archive for September, 2009
Tuesday, September 22nd, 2009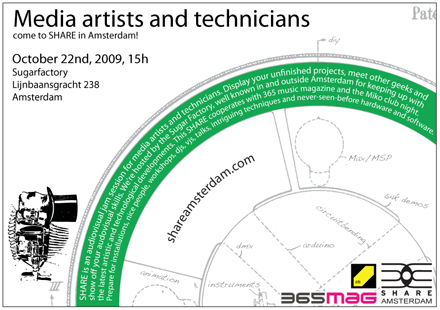 Tuesday, September 22nd, 2009
Media Artists and Technicians: Come to SHARE in Amsterdam on October 22, 2009
SHARE is an audiovisual jam session for media artists and technicians. Display your unfinished projects, meet other geeks and show off your audiovisual skills. We're hosted by the Sugar Factory, well known in and outside Amsterdam for keeping up with the latest artistic and technological developments. This time, SHARE cooperates with 365Mag music magazine and the Miko club night. Prepare for installations, nice people, workshops, djs, vjs, talks, intriguing techniques and never-seen-before hardware and software.
15.00 - 19.00: SHARE day program - Time to take the best of everyone's work by optimizing and interconnecting the individual instruments, software and tool sets.
19.00 - 20.00: Dinner
20.00 - 23.00: Workshops by 365live and media satellite, including Ableton Max For Live, Ben Liebrand, Francois K. Also more time to prepare for the jam.
23.00 - 00.00: SHARE Jam - Show off your audiovisual skills. During the afternoon we'll connect and schedule as many participants as possible.
00.00 - 05.00: Miko club night with Brendon Moeller (US), François K. (US), John Daly (GB) and MOSFET Visualists
For a more detailed program visit shareamsterdam.com.
Entrance fee: free for participants who register in advance, regular fee (€ 5,- ) otherwise. Please register before October 19th via info [ a t ] shareamsterdam.com or the online form describing which gear you'll bring to make sure we can connect you. You'll get a SHARE wristband that allows full access to the day and night program.
Finally, if there is something you would like to demonstrate or present during the workshops session, let us know! Please contact us at least a week in advance.
Location: Google Maps
More info: shareamsterdam.com, sugarfactory.nl, share.dj
Friday, September 4th, 2009
Hello everyone, it's time for a second share.ams! We have a date: Thursday, October 22nd, and we have a location: the Sugar Factory. More info coming soon.